---
Climate and Extremes Data Science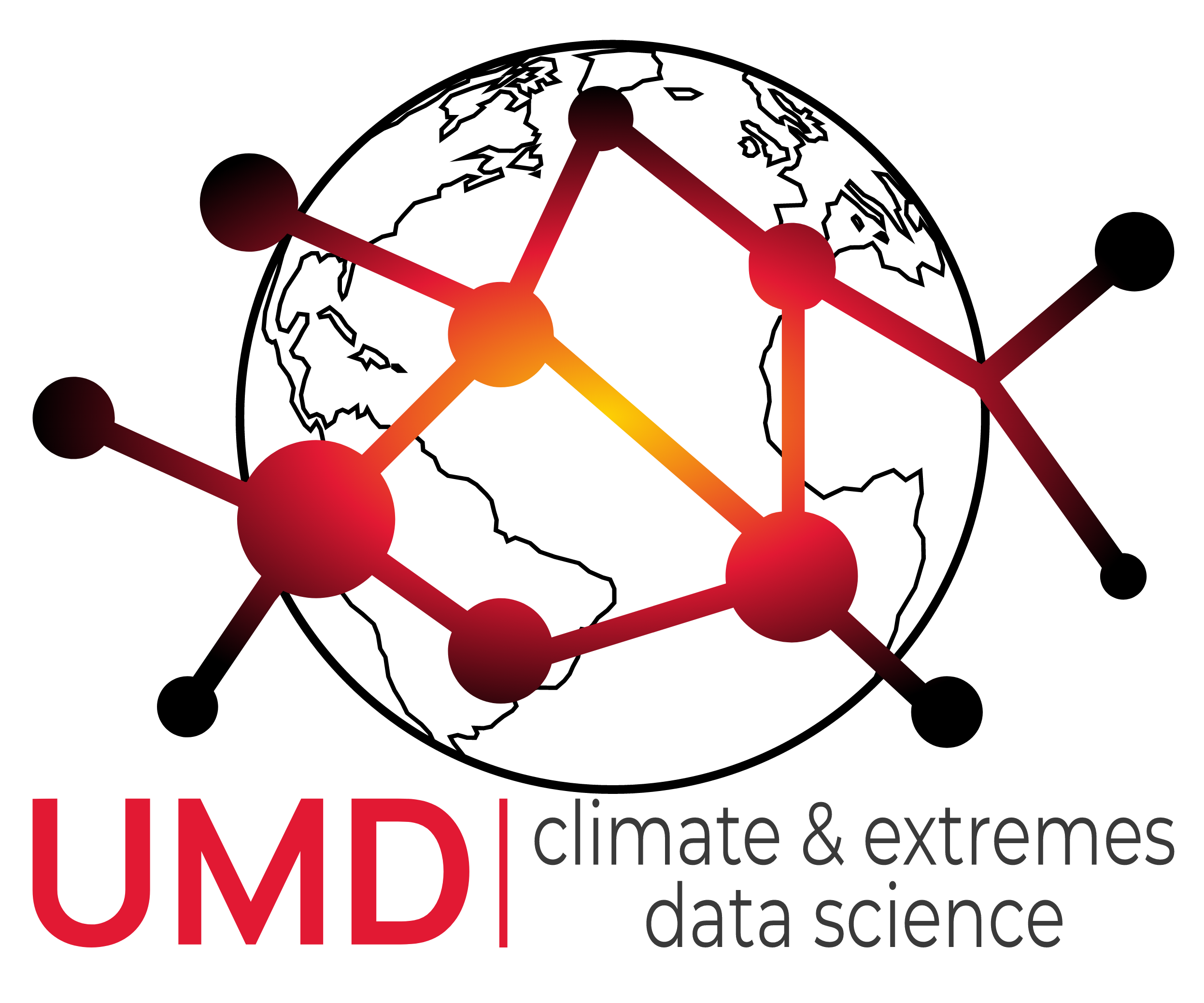 Welcome! Our research focuses on the application of machine learning tools (e.g. neural networks) and numerical modeling systems (e.g. CESM) to answer pressing questions in the domains of climate and extremes. Examples of problems that we are tackling include:
☁ extending Earth system prediction,
☁ understanding genesis of extremes, and
☁ uncovering multi-scale patterns in the climate system.
Our research also strives to incorporate open-source software and data, accessible communication, and multi-discipline collaboration.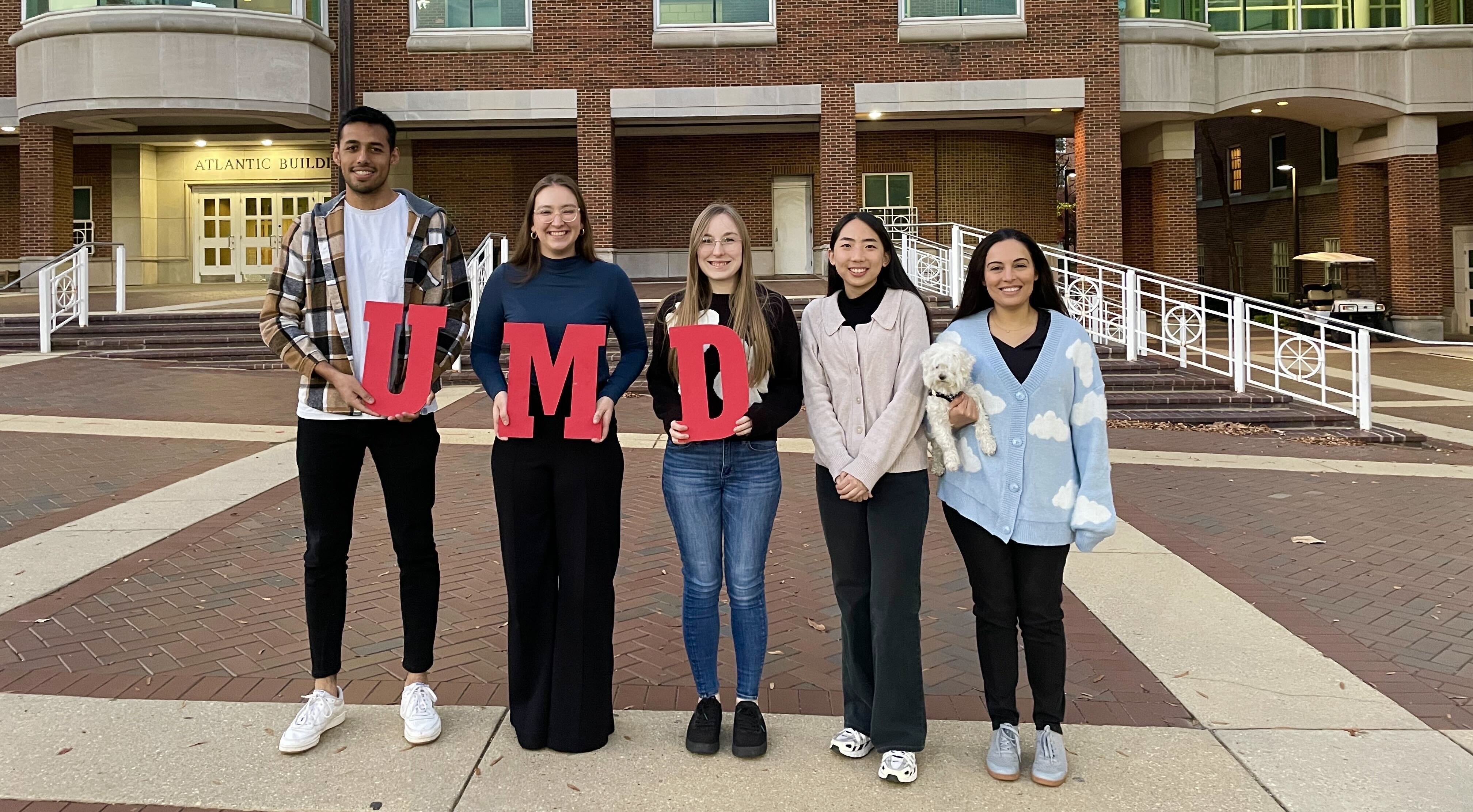 Fall 2023 group photo. Pictured from left to right: Jhayron Steven Perez Carrasquilla, Emily Faith Wisinski, Erin Elise Evans, Hannah Bao, Cumulus, and Assistant Professor Maria J. Molina. Learn more about our group [here].
If you are interested in joining our group as a graduate researcher, please note that all interested applicants must apply online to be considered.
---
Recent News
☁ [October] Our group will be attending the AMS Annual Meeting in Baltimore, MD! Our schedules have been announced:
- Hannah's poster, "Enhancing predictability of Southern California precipitation using a multi-input-multi-output autoencoder network," is on Monday, January 29th at 3:00pm ET.
- Emily's poster, "Identifying precursors to spring El Niño false alarms," is on Tuesday, January 30th at 3:00pm ET.
- Maria's talk, 9A.1 "When machine learning objectives compete for improved subseasonal bias correction, who wins?", is on Wednesday, January 31st at 8:30am ET.
- Jhayron's talk, 10A.2 "An Earth-system-oriented view of the S2S predictability of weather regimes," is on Wednesday, January 31st at 11:00am ET.
- Jhayron and Maria will participate on a panel with others (led by Amy McGovern) titled, J13.1 "Using AI creatively in the classroom: lessons learned," which is on Thursday, February 1st at 8:30am ET.
- Erin's poster, "Investigation of meteorological fields and satellite data relevant for model prediction of lightning flashes and lightning NOx production," is on Thursday, February 1st at 3:00pm ET.
☁ [October] Emily Wisinski was awarded an NCAR Exploratory Computational Allocation for her project titled, "Identifying Precursors to El Niño False Alarm Events."
☁ [October] Cumulus was featured as October's Lab Mascot of the Month by the College of Computer, Mathematical, and Natural Sciences (CMNS) at the University of Maryland. Way to go, Cumulus! [Link]
More news available [here].
Recent Publications
☁ Shah, S. H., C. O'Lenick, A. Ramos Valle, J. Wan, O. Wilhelmi, K. Ash, C. M. Edgeley, M. J. Molina, J. Moulite, C. C. Pizzaro, K. Emard, O. Cameron, J. Done, C. W. Hazard, T. Hopson, M. Jones, F. Lacey, M. A. Lachaud, D. Lombardozzi, M. Mendez, R. Morss, K. Ricke, F. Tormos-Aponte, W. Wieder, and C. Williams (2023). Connecting Physical and Social Science Datasets: Challenges and Pathways Forward. Environmental Research Communications. [Link]
☁ DuVivier, A. K., M. J. Molina, A. L. Deppenmeier, M. M. Holland, L. Landrum, K. Krumhardt, and S. Jenouvrier (2023). Projections of Winter Polynyas and Their Biophysical Impacts in the Ross Sea Antarctica. Climate Dynamics. [Link]
☁ Molina, M. J., T. A. O'Brien, G. Anderson, M. Ashfaq, K. E. Bennett, W. D. Collins, K. Dagon, J. M. Restrepo, and P. A. Ullrich (2023). A Review of Recent and Emerging Machine Learning Applications for Climate Variability and Weather Phenomena. Artificial Intelligence for the Earth Systems. [Link]
More publications available [here].
---
Any opinions, findings and conclusions or recommendations expressed herein do not necessarily reflect the views of the University of Maryland.